Steve's DJ Service Wedding DJ Specialist
Steve's DJ Service has your music.

Decades of Club experience and even more wedding  DJ experience.

Steve's DJ looks after the music – you dance The Night Away!

DJ that actually interacts and plays requests!

Steve's DJ is your 

Best choice for a wedding or party DJ.
Looking for a top-notch DJ service that can keep your party guests grooving all night long? Look no further than Steve's DJ! With years of experience and a massive music library, Steve's DJ is the perfect choice for weddings, corporate events, and private parties of all kinds. Book now for an unforgettable night of dancing and celebration!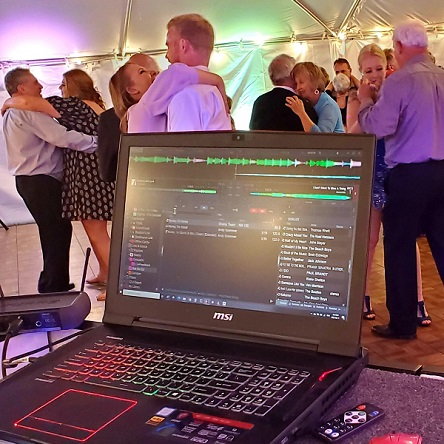 COMPLETE WEDDING DJ EVENT SERVICE
At Steve's DJ, there are a variety of services available for your next function. We provide personalized attention to detail to ensure your function is unique and memorable.
Real wedding
DJ SteveO
Steve was professional, charismatic, and an overall joy while organizing and DJing our wedding. All communication before the event was professional, quick, and friendly! He also helped organize sound and video so my family that couldn't come could watch the ceremony from zoom with great sound quality!
The dance part of the night was a delight, he played great hits and was great at getting people onto the dance floor, and was also a great MC when announcing different events. I highly recommend booking his services, you will not be disappointed!
Let us exceed your entertainment expectations. Make your next celebration, a Steve's DJ Dancing Success Celebration!
Read reviews from couples like you
DJ SteveO Steve's DJ service played our wedding in Muskoka in Sept 2022 and was PHENOMENAL!! He is kind, caring, funny, and extremely professional, with suggestions for music and hard work getting all custom songs requested and prepped for the day. There was never a moment during my ceremony or reception where I felt our music was not in the best hands, and our guests loved his music choices and being able to request songs they wanted. I would 100% recommend Steve's DJ service for your event. Natascia Z. Wedding at Severn Lodge
DJ SteveO Steve and Amy were prompt, professional and engaging with our guests! The photobooth and Live Gallery was a huge hit and fun for everyone from ages 3 to 75! The website and preparation forms were very thorough so that Steve could capture our requests. Wonderful experience! Deanna & Andrew Wedding & Photo Booth at Braestone Farm
DJ SteveO Steve is incredible. Not just in his abilities as a DJ, but in his upbeat and wise advice leading up to the ceremony, which was invaluable. I relied on and trusted Steve's opinion, and was touched by the time he gave me prior to the wedding day. His website is so helpful and easy to use. I spent a lot of time on it and created a fantastic playlist. I would never have come up with it if not for Steve's website. The dance floor was full the entire night. The sound quality, professionalism and good humour on the day was second to none. I really hope I have another opportunity to work with Steve again. What a super person and talent. Thank you so much...Paris and Andy x
DJ SteveO Steves's DJ service was fantastic. Steve did our Ceremony and Reception and I wouldn't have changed a thing. He made it very easy to communicate with him which took a lot of stress off of us. We also had a lot of compliments from our guests for Steve. They thought he was a great MC by adding humour and having a great mix of music! Kenzie and Kent Wedding at Rounds Ranch